Next Chelsea Manager: Lampard odds-on but is he right choice?
Frank Lampard is [1.12] to be Chelsea manager next season while current Blues boss Maurizio Sarri looks set to seal his move to Juventus at [1.07].
Lampard will be a popular choice thanks to his legendary status at Stamford Bridge. He played for the Blues from 2001-2014, winning the Premier League three times and captaining them to their Champions League triumph in 2012.
But has he got what it takes to succeed as manager at Chelsea – a club which has had seven managers since 2004? Lampard impressed with Derby Country in 2018/19 – his only season in management so far – and took the club to the play-off final. They showed character and nous in overcoming Leeds in the semi-finals. But managing Chelsea in the top flight will be a different matter.
It is perhaps unfair to compare Lampard to the man he is succeeding. But it's impossible not to wonder if Chelsea are making a rash decision in swapping one for the other. What once looked like ruthlessness on the part of their board, is starting to look like chaos, as Chelsea lurch from one manager to the next.
Sarri will leave with reputation intact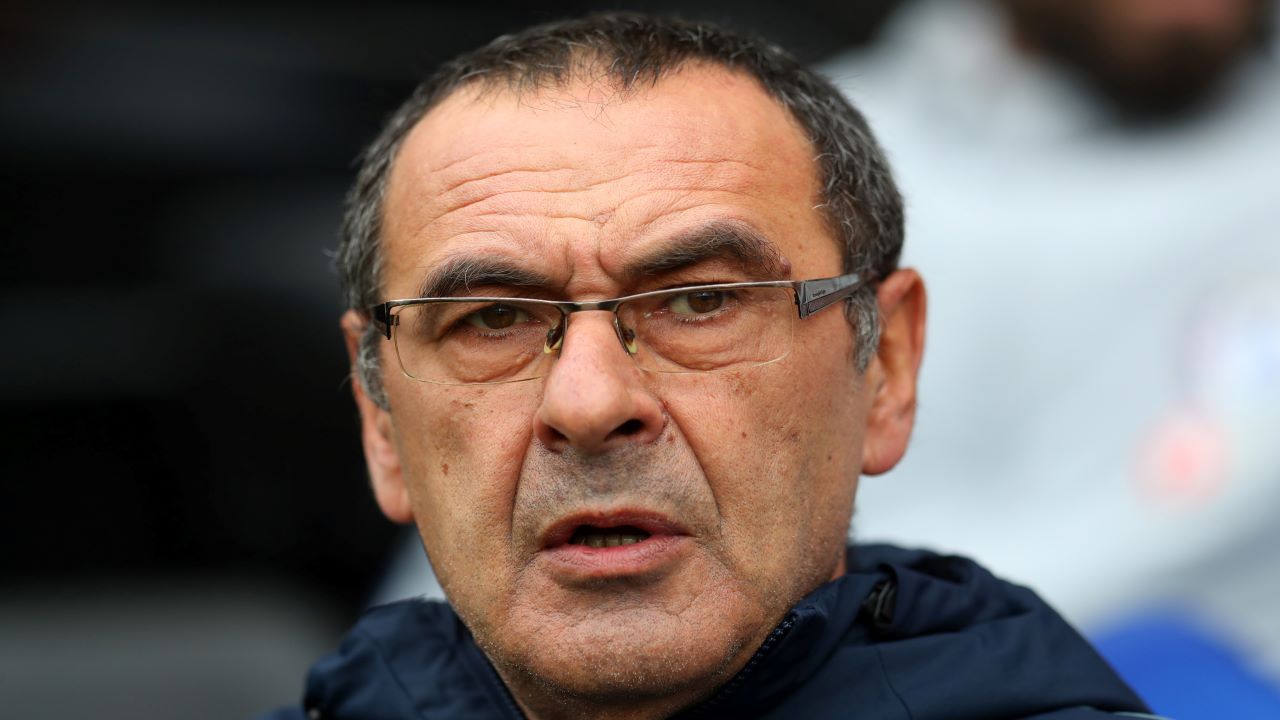 Sarri's season at Stamford Bridge was full of angst. He started brightly, with Chelsea, winning his first five Premier League fixtures even though he was brought in fairly late in the summer (as the club had to work out the terms of Antonio Conte's departure).
Things took a nosedive from there and reached a nadir when goalkeeper Kepa Arrizabalaga refused to come off when Sarri wanted to substitute him in the League Cup final.
Chelsea recovered under Sarri, however, and finished the Premier League season in third-place before winning the Europa League final against Arsenal. Sarri ended his first season with a 61% win rate with Chelsea.
He won 39 of his 63 matches in charge in 2018-19 and the only manager to ever win more in his first season in charge at the Bridge was José Mourinho in 2004-05. The club should be more than satisfied with Sarri's work. What would Arsenal or Manchester United give for such a season right now?
Sarri, though, has had enough of being undervalued by Chelsea and the call from Turin comes at just the right time for the Italian. He's never looked entirely comfortable at Chelsea, in spite of his impeccable English. Now he can go back to his homeland, be among his family and smoke cigarettes in the dugout.
Lampard will be fresh start for Chelsea
One thing Lampard can bring to Chelsea is goodwill. They are not a likeable club, in part due to the way they have treated their managers during the Abramovich era, but Lampard is a figure for whom many neutrals have affection.
Similar to Ole Gunnar Solskjaer at United – the club against whom Chelsea open their 2019/20 Premier League campaign – Lampard's appointment could mark a new era of humility at the Bridge, as the club focuses on developing young players and giving a manager time to make his mark.
Chelsea are [38.0] to win the Premier League next season and, while those long odds are justified, they might be a better bet for a top four finish.
Lampard has done well at a smaller club, he is articulate and ambitious. Cynics will point out that all those things were true of Andre Villas-Boas, but Lampard will get more patience from the fans and it would be a great story if he were to succeed.
Do you want daily and profitable Betting Tips?
Let's take a look on our super tips of the day and win over 1000€ Profit per Month!
Click here and bet with our super tips for today